KIXEYE is excited to announce Battle Pirates: Brawl, our upcoming free-to-play mobile combat game. Read on for details on our initial launch plan, and how to stay connected on future updates. Will you be the one to rule the high seas?
What is it?
'Battle Pirates: Brawl' is a head-to-head combat game, coming soon to mobile devices everywhere. Aided by legendary pirate Heroes, take command of your Capital Ship on a mysterious ocean-planet. Create unique fleets, then battle other players for resources, upgrades… and glory.
CHOOSE YOUR HERO – Unlock pirates from three different factions and use their Hero Powers in combat to turn the tide of battle.
CREATE UNIQUE FLEETS – Mix-and-match ships with different firing arcs, attacks, speed, health, and size to create an unstoppable fleet! Upgrade your ships or unlock new ones as you play.
TAKE FULL CONTROL – Set your deployment formation in the Planning Phase, then steer your ships through the water in the Brawl Phase to execute your strategy (think American Football!). No drop-and-pray – you control your ships!
BRAWL FOR GLORY – Earn Uranium, as well as upgrade materials for both Ships and Heroes, to level up and increase your fleet power. Compete against other players to place as high as you can in regional leaderboards – which pay out huge rewards at the end of each season.

How Do I Find It?
This addictive, highly strategic, head-to-head mobile combat game goes into closed test market February 1st for Android users. To start, it will be available in English in Nordic, Canada, Australia, New Zealand regions.
iOS availability, additional languages, and additional regions will follow over the coming weeks.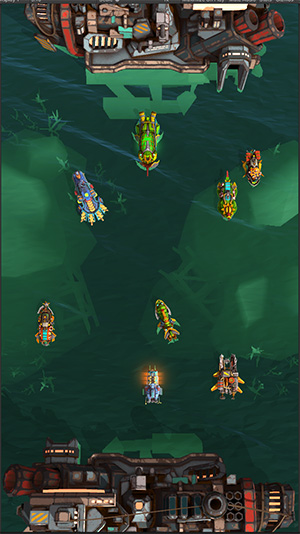 Stay in the Know
Be the first to hear about major milestones, developments and updates by following Battle Pirates: Brawl on social media:
Plus, don't forget to check out the official Battle Pirates: Brawl website. 
Above all, when the game is available in your region, give it a download, leave a positive rating, then play and enjoy. We made this game for you – and we hope you love it.